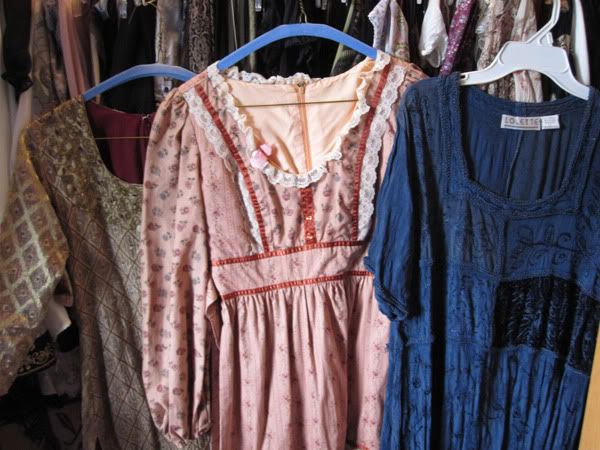 Selection of my recent favorite thrift store finds. All found locally! Ethnic metallic gold embroidered, lined & beaded Indian tunic, pink gunne sax knee length dress, and 80s blue embroidered gypsy maxi dress. My heart was beating a million miles a second when I found that gunne sax dress.
Summer is upon us! While I'm been away I'm been continuing my endless crawl around town for amazing forgotten treasures. I'm slowly building up a wardrobe of amazing Dolly Kei/Gypsy-esque items, it's almost like I have a mini chunk of Grimoire Shop in my closet. It makes me so happy to see it all starting to become visually cohesive and completely unlike anyone else's closet. As, that is my favorite part: finding unique, beautiful items that can't be found anywhere else. For me, that is what makes vintaging a great adventure! All the places you go and never knowing what will pop up: 20s flapper dress, 70s psychedelic prints, 80s ethnic revival, 60s mod, or modern designer brand names. Anything is game!


Rule number one, if you don't play you can never win!
You increase your likelihood of making an amazing haul if you routinely check stores. Make a list or mental map of all the stores in your immediate area. I find this by google maping first my town's name (or a town that I'm going to visit), then searching for "Antique" "Resale" "Thrift" "Consignment" and writing down all the addresses then visiting them to see which ones stock accessories, clothing, or other knickknacks of interest. Try making the rounds every other week to see how quickly their inventory updates. I find that the big name thrift stores like Salvation army, Goodwill, St. Vincent De Paul, and Unique Thrift tend to have the quickest turnover just because they have name recognition.
Some antique stores move quickly too and stock a variety of items. I find multi-vendor antique stores in a large city tend to change quickly. But small towns, and stores off the beaten path can be good since their probably not well picked through and isn't much of competition.
And shop for clothing out of season. You're probably going to find an amazing coat or jacket, boots, long dresses, or pants during the summer season, and vice versa for winter.

Rule number two, buy "show pieces" online

What I mean by show pieces is something that is in high demand, hard to come by in thrift/antique stores, that makes you see stars in your eyes. Say you're looking for the perfect gunne sax dress in a certain color. The likelihood of you finding that in stores in pretty slim (Slim, but not impossible). Or an intricate embroidered vest/jacket, a very specific style of blouse you need to pair with an amazing gypsy skirt you found, or granny boots or platform shoes that fit your shoe size. The final touch your outfit needs can be easily found online. Ebay, etsy, forever 21, and urban outfitters are your allies. They pricier range I aim for buying my "show pieces" are around $20 for separates, $35 for dresses, and $25 for large layering pieces like collars or shawls, $10 or less for jewelry, and good quality leather shoes I'll be willing to pay a bit more for if it's what I'm looking for exactly.

For example, brown leather victorian granny boots match with just about everything but new genuine leather ones cost a lot. I forked over much more than I usually would because they comfortable, high quality, and add the perfect finishing touch. I highly recommend the brand Oak Tree farm for victorian boots. I bought a half size larger like it recommends and it fits perfectly. Do not, I repeat, DO NOT buy those cheap chinese made victorian boots you see on ebay. They are uncomfortable, fit awkwardly, and look cheap. Don't skimp on good, comfortable footwear, your feet will thank me.


Rule number three, don't forget your "time based events."

By time based events, I mean places that will only be selling things for a short amount of time such as: garage sales, auctions, estate sales, flea markets, and religious association's mass garage sales.

These can be hit or miss, but rules number one applies greatly to this: if you don't play you can't win. You have to go to as many as you can to find something. Don't be discouraged, I tend to find the first garage sale I go to I never find anything at, but once I get that first one out of the way I can start to find some awesome things.

Its hard not to feel awkward going into someone's garage and looking at their stuff. I find it helps if you say hello, good afternoon to the homeowner. Maybe throw in pleasant noncommittal conversation about weather to break the ice. Typical etiquette. Also remember you aren't intruding. They want you to buy their stuff. For busy block sales its a bit easier to zoom in and out of garages for searching without as much pressure for conversation. Also don't be afraid to bargain, but don't insult them either by making too low of an offer.

Estates sales can be crazy. They're usually hosted at the house of the seller, but sometimes can be in a warehouse. If you live in a highly populated area it's best to arrive a half an hour early or even earlier if there's something you really want that they have. Usually there's a line, signup sheet, or you take numbers to figure out the order of who arrived first. Generally the company hosting the estate sale won't be super lenient with pricing, but you can still barter to a degree and get about 30% off price marked if you can barter well. Anything that's less than $5 you probably won't be bargain down with them, since that's pretty cheap already. $20 and greater you can start to do more with making deals. If your in a smaller town then showing up at around the time they open or a little later will probably be just fine. And one more tip, if you see something you like but it's too much, try coming back the last day of the sale. Sometimes the seller is willing to cut bigger deals on the last day.

I tend to find time based events have the greatest potential for amazing jewelry, accessories, and furniture. Awesome clothing tends to be a bit harder to find at these.


Rule number four, go in with a clear vision.

Even if you don't know exactly what you're looking for, know what kind of things you like. Are you looking for something encrusted with details for dolly kei? Or do you want something more natural and simple like mori girl? Are you searching for timeless classic fashion? Are you looking for clothing to fit a certain silhouette? Do you prefer clothing from a certain decade or ethnic group, and you researched enough about it to identity it when you see it? Are there certain details you're looking for like prints, embroidery, pleats, waist ties, or beading? What kind of cuts do you favor?

And always do a quality check on an item before you buy it. Check to make sure all the seams are good, ideally double stitched. Is the beading or embroidery coming undone? Is shoe & sole firmly attached to the heel? Will you be able to clean the item sufficiently for wearing if it is dirty?

Thinking about your style preferences, and checking for quality will help you limit your search to high quality clothing that you'll look good in and matches the style you're trying to achieve.


And some final misc advice:


Also remember even if you buy something that you wind up not liking: you got it for dirt cheap anyway and nearly all thrift store's proceeds are helping charity not bloating a corporation's wallet.

If you don't find what you're looking for right away, be patient, persistent, and open to whatever event or cool item might find its way to you.

The order I check a thrift store's clothing is: dresses, skirts, jackets/vests, shoes/purses/misc, and then finally either skimming over or digging through all the shirts, depending on how much time I have.

If you're limited on time, ie if you're with someone or on vacation/traveling through an area, maximize your time by methodically combing over a store rather than just wandering aimlessly around so you don't miss anything. With local stores you can take your time and sort through everything since you're probably there at your leisure anyway.

Antique stores often are owned by whoever is behind the register. Don't be afraid to talk to you local store owner and tell them what you're looking for or interested in. Usually they're older folks and they love talking to girls about fashion from era's gone by, and are enthusiastic about girls who want to dress differently than typical modern fashion. And if you're a boy that cares remotely about your appearance they'll be joyfully amazed. If you have a good relationship they can let you know when something you might be interested in comes into the store.


And I leave you with a picture of my occult themed tea set and misc items ontop of my bookcase.
Happy travels, bonfires, cook outs, and vintaging! And brag to me, what's the most amazing second-hand item item you've found?