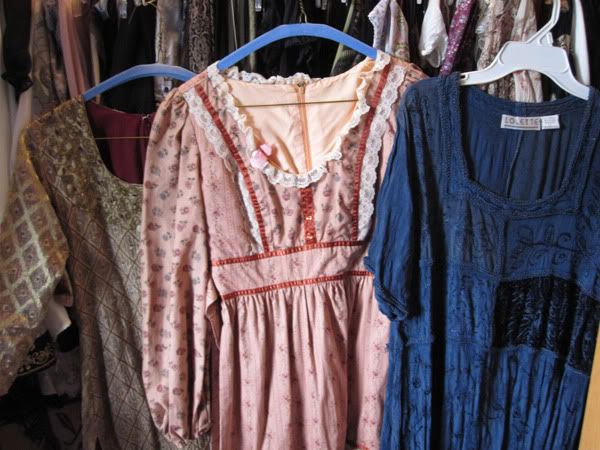 Selection of my recent favorite thrift store finds. All found locally! Ethnic metallic gold embroidered, lined & beaded Indian tunic, pink gunne sax knee length dress, and 80s blue embroidered gypsy maxi dress. My heart was beating a million miles a second when I found that gunne sax dress.
Summer is upon us! While I'm been away I'm been continuing my endless crawl around town for amazing forgotten treasures. I'm slowly building up a wardrobe of amazing Dolly Kei/Gypsy-esque items, it's almost like I have a mini chunk of Grimoire Shop in my closet. It makes me so happy to see it all starting to become visually cohesive and completely unlike anyone else's closet. As, that is my favorite part: finding unique, beautiful items that can't be found anywhere else. For me, that is what makes vintaging a great adventure! All the places you go and never knowing what will pop up: 20s flapper dress, 70s psychedelic prints, 80s ethnic revival, 60s mod, or modern designer brand names. Anything is game!


Rule number one, if you don't play you can never win!