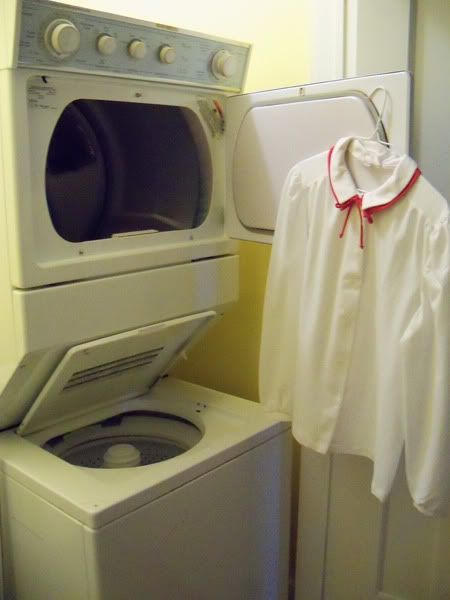 You can find some really unique vintage clothing that will require some extra love. I've written up this guide based off my own experience over the past year in cleaning clothing. I will cover how to hand wash a variety of fabrics, when to dry clean, and taking care of antique/delicate fabric.
What I have in my cleaning arsenal:
Your choice of liquid detergent that is gentle on fabric integrity and color.
Laundry bag or lingerie bag to protect delicate fabric.
Biz Powder
Plug-able laundry sink or large clean bucket.
Paint stirring stick or some clean stick.
Dry Cleaning: Sometimes you just have to bite the bullet and realize you have to bring it to the professionals. I recommend this for velvet, silk, Gunne Sax Dresses in good condition, large vintage dresses, coats, wool, and other fabrics specifically marked dry clean only. Also be aware that earlier vintage clothing did not have a care label, in which case you will have to determine to kind of fabric it is.
It should be noted that the difference between vintage & antique is important for dry cleaning. Don't bring anything 20-30s era and earlier to the dry cleaner. Usually garments 50's era and above and still in good shape should be OK. The 40s are middle ground.
The cheapest dry cleaning service available in the U.S. is One Price Cleaners. Look them up on google to see if there's one in your area. They clean any garment for $2.50, which is insanely cheap. I have brought coats, silk, lolita brand, A number of Gunne Sax Dresses, and even velvet bolero with rope-like trimming and I have had no problems. I'd highly recommend them.
How I Handwash: The method I have found to work is handwashing in detergent or biz powder. Fill up your laundry room sink, assuming it's clean, or a large clean bucket with steaming hot water. You can pick up a deep bucket for cheap at Menards/Home Depot for like $2-$3 if you don't have a laundry sink.
Then pour in either biz powder or laundry detergent. Use a clean wood paint mixing stick or any other clean stick to stir it. Once it starts foaming, place the garment into the mixture. Once the water is cool enough to touch, agitate the fabric manually with your hands. I just gently whoosh it around for a couple minutes. Then let it soak for a couple hours, and every so often continuing to agitate the garments. Then drain the water and refill the sink/bucket with water. Agitate again to get out some of the water then empty it. Repeat this until you have washed out all the soap. Depending on the fabric type depends how you should let it dry.
For antique fabrics & trimmings I'd use biz powder not detergent. It is very gentle and will remove stains and yellowing from age. I've cleaned a turn of the century peasant-style cotton blouse and it worked extremely well and did not damage it. When in doubt, use biz. Below I'll talk about different methods for cleaning different fabrics types.
Spot Cleaning Stains on Delicate Fabric: Often you may find stains on clothing, crochet, lace, and other fabrics. Once solution is to make a paste of Biz powder with water and apply it to the problem spot. Let it sit for day or more then rinse. There are other methods you can find as well if you google specifically what fabric and kind of stain you're looking to fix.
Intense Machine or Hand embroidery on clothing + Beading + misc sewn on details: As much as I love 80's ethnic revival and all the machine embroidery and beading, it's a bear to clean. Put it through the washing machine and suddenly you have a fuzzy mass of embroidery. Do not put anything with a tapestry-like web of embroidery or beading in the machine washer, ever. Only small little accents of embroidery & beading can be washed, and they should be put through the machine in laundry bag.
After hand washing, lightly wring the fabric of excess water with your hands. Then let dry in an open air area on a hanger, on a drying wrack. It'll take overnight to dry. You may have to reform and flatten the embroidered fabric. If you want to iron it once it's dried, use a sheet as a barrier between the iron and the clothing. Obviously, do not iron the beaded area of fabric. Use a steamer if it needs it desperately.
Lace: Most lace is fine to wash in the machine in a laundry bag as long as it's not antique.
Antique lace, or any lace you're unsure of it's strength, should be washed similarly to embroidered clothing. Use Biz powder solution and soak overnight, rinse it out with water, and then set it somewhere to dry. Be sure to not fold it to avoid wrinkles.
Please note that biz will whiten, and remove yellow aging. If you like the color of creame/biege on the lace it may not stay. You may want to wash it out with biz and not let it sit and soak, or simply let it air out for a week or a month if you're super attached to the color.
Crochet: Small amounts trimming & accenting on most clothing are OK to wash in the machine in a laundry bag. It will get all crumpled, and you will have to reform it or iron it flat. I would use a sheet barrier for ironing crochet as well.
Antique/vintage crochet collars, strips, table linens, dollies, and other miscellaneous large pieces of croquet you may come across in antique shops and estate sales should only be hand cleaned using biz powder. Spot cleaning may be needed as well. Remember for aged crochet turned biege, biz powder will whiten most of them to an offwhite.
Rayon: Blouse, skirts, and various dress that are rayon can be washed in the washing machine, even though they say dry clean only. The reason it says dry clean only is rayon becomes heavy when wet and more likely to tear. To avoid this, put the garment in a laundry bag or bra bag. Also some rayon fabrics get scratchy when washed, so I'd recommend fabric softener.
I tend to notice that if I put rayon through the dryer, it becomes all wrinkly. So I put the rayon garment in the dryer for a minute or two to just get out the excess water, then I hang it on a hanger, reform it with my hands, and then let it air dry.
For dress and skirts folds and pleats in the fabric maybe lost though. Check the garment to see if they're sewn in. If they aren't it might be best to look get it dry cleaned.
Sweaters: You'll find a lot of vintage sweaters may have a ton of hand knitting and details. These have to be hand washed or they'll get ruined in the washing machine. Use the handwashing method, rinse the sweater to the best of your ability without squeezing/wringing out the water too much. Then to get all the soap out put the sweaters in the machine on the spin cycle and let it wring out all the excess water. You can then rinse the sweater out in water again to make sure you've gotten all the soap out, or simply let it dry. Let it dry flat, preferably on a wire wrack so it can air out. You can stretch it out while it's wet to reform it. If you want the sleeves longer this is the time to do it.
Storing Sweaters and Heavy Fabric Skirts: Heavy sweaters should be folded, not hung on hangers or they will stretch out. Velvet/Velveteen and courdory skirts should be hung on a normal hanger, not pants clasp hanger. Clasp hangers will ruin the fabric.
That's it for now! Do you clean your vintage a different way? Let me know if you have any questions, I'll answer to the best of my ability and experience.